Posted on October 28, 2010
Back in the summer of 2007 we made our way up to Northern Michigan and stopped for lunch in Petoskey. There is a small park that sits atop a bluff overlooking the Little Traverse Bay. It was a beautiful day so I proceeded to shoot some pictures with my Nikon D50.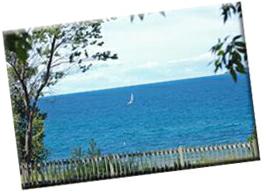 I especially loved how this one picture turned out, so last May I thought it would be perfect to fill the blank wall that sits in front of my desk. In the past I have had good results when enlarging images to poster size (20" x 30"), but I wanted to do something different with this photo. I wanted to super-size it, not billboard size mind you but something i could mount on the wall at home and have it really stand out.
The D50 comes with a 6.1 megapixel sensor, less than half of what a new DSLR camera comes with these days. I was concerned with pixelization and didn't want to risk poor quality by go going too big, nor did I want it to overpower the room either.  I researched enlargement techniques online to minimize pixel loss and used Adobe software to upsize the image to 54" x 36". I worked with the folks at Key Blue Prints in Westerville and they produced an outstanding print. It's a matte print mounted on black foam core with a .5 mil hot press laminate.
After completing the work on the Fearful To Fearless book I decided it was time to get out, grab the camera and try to capture some of the fall colors in the area. I've since upgraded to the Nikon D90 which comes with a 12.3 megapixel sensor. I remembered that my friend Ray Bohac had captured the brilliance of fall in a spectacular shot of the tree lined street in front of Schnormeier Gardens here in Knox County.
With Ray's photo fresh in our minds Chris and I took a drive out that way a couple weeks ago for a photo shoot. The shot below is one of our favorites from that day, it was taken from a different perspective from the picture Ray took which was from the other end of the road. We liked it so much we decided to have it enlarged.  This time we chose a semi-gloss finish and went a little wider and not quite as tall... 60" x 30". The order was placed and Key Blue Prints didn't let us down.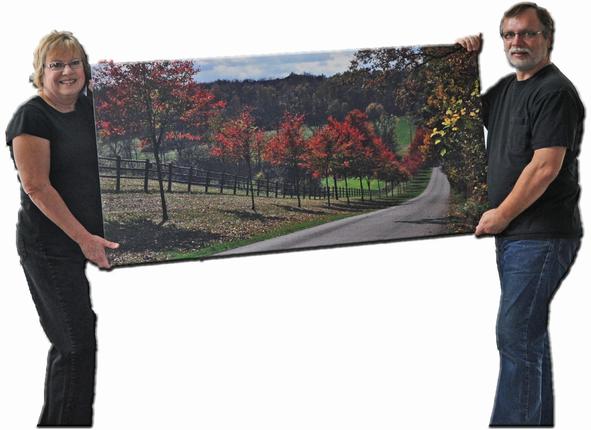 Posted on October 21, 2010
After publishing Fearful To Fearless
 I made my first attempt at an online campaign to help spread awareness. The campaign was patterned after similar campaigns I've seen and actually participated in myself. 
The crux of the campaign was this;
First, you need to provide your visitors the opportunity of receiving a free gift, something of value. In my case I was offering free copies of Fearful To Fearless to 10 individuals.
You need to make sure you spell out the rules so there is absolutely no question. My offering required participants to complete the next three steps, and made sure they understood that the decision of who wont was entirely up to me based upon why they wanted a copy of the book.
First, engage people to have them tell you why they want the product. I directed visitors to enter the information in a comment that is visible to all visiting the site.
Next, a method for people to provide their contact information so you know where to send the prizes to the winners without the information being publicly displayed. This is important because the name people leave comments as is different than there real names. This is where you need to make sure they provide the name they used for the comment so you can sync up the comment to the real person.
Lastly, and this is most important, require particpants to spread the information on one of their social networks. This info can easily be verified by utilizing some of the functionality already built into many blogging packages, using Google Alert, or many others.
Obviously you can come up with your own requirements but this was a popular method I was already familiar with and easily implemented.
The Results:
Honestsly, it wasn't quite as successful as I had hoped, although a number of people did submit comments for the free book giveaway which remain on the web page at http://fearfultofearless.com. Perhaps extending it longer would have resulted in increased results, although I suspect that the people who were aware and interested in the offer were a bit older and perhaps less tech savvy than younger folks. I would estimate that only about 30-40 percent of those that submitted comments followed through with completing all of the necessary steps which were intended to be the catalyst for spreading virally.  Feedback from others who have implemented similar campaigns report up to 90% of those submitting comments follow through with all of the steps outlined in their offers.  
Not that it was unsuccessful either, I have received a considerable amount of traffic and the facebook fan page numbers continue to increase. I've got a couple other thoughts and will work on them soon.
Posted on October 14, 2010
I know I've only recently entered into this arena and I have much to learn, but I wanted to share a little of what I've encountered thus far.
First let me share a few facts:
Average Book Sales are shockingly small and falling fast. In '04, 950,000 titles out of the 1.2 million tracked by Nielsen Bookscan sold fewer than 99 copies. Another 200,000 sold fewer than 1,000. Only 25,000 sold more than 5,000. The average book in America sells about 500 copies (Publishers Weekly, 1/17/06). And average sales have since fallen much more. According to BookScan, only 299 million books were sold in '08 in the U.S. in all adult nonfiction categories combined. The average U.S. book is now selling less than 250 copies per year and less than 3,000 over its lifetime. A book today has less than a 1% chance of being stocked in an average bookstore. Foster Letter-Religion Market Update 3/10/2010
The Number of New Books being published in the U.S. has exploded. Bowker reports that 560,626 new books were published in the U.S. in '08, more than double the number published in '03. These figures include print-on-demand and short-run books, which is where most of the growth has occurred. In addition, 120,947 new books were published in the U.K. in '08 per Nielson Book. Add tens of thousands more in other English-speaking countries. Foster Letter-Religion Market Update 2/25/2010
These statistics are not meant to discourage anyone, only to provide realistic expectations. The fact of the matter is that if your goal is to write a best selling book and appear on the Oprah show then you might as well switch gears... if your aim is to write about something you are passionate about and believe in then go for it.
First and foremost I would encourage anyone considering writing/publishing a book to jump in head first to gain added knowledge and experience by researching what it takes to query literary agents, how to put together a solid book proposal to receiving feedback from agents  and ultimately potential publishers. Visit writing sights and blogs, you'll gain valuable insight into the publishing industry and ultimately end up with a better product provided you heed good advice and put into practice what you've learned.
If after all that you are still up to the challenge of publishing your own work then perhaps some of my experiences will be of benefit to you.
Quite frankly there are many companies providing publishing services to would be authors offering all sorts of different solutions. When you first try to get a handle on the industry you'll soon discover that you are heading off into many different directions. I hope to provide more information on self publishing in a later post, but I wanted to provide information on the companies I decided to use and why. I chose to work with Amazon's CreateSpace and Lightning Source print on demand (POD) services.
Amazon's CreateSpace
was extremely easy to get started with, and working through file submission and proof approval proved just as easy in publishing a book through Amazon.   I also setup an account with their digital text platform in order to publish the kindle version which proved to be a little trickier to format to the required standard. Once the kindle version was available it took only a few days to have them link the print & kindle versions on their site. I made sure that the print version had the capability to search inside the book (SITB) through Amazon's Seller Central. Finally, since I already had an Amazon affiliate account I took advantage of that on the selling side to get a few extra cents by referring clients to the book from my websites. I ordered several cases of books from Create Space and was very pleased with the quality of production as well as the turn-a-round time.
Ligntning Source works directly with publishers or in my case a micro publisher, and they expect that you have experience and knowledge to provide the required source files according to their defined specifications.  If you are not comfortable with the level of technology required to work with LS then you should seek an alternate path or work with someone who has a better handle on the process because there is limited hand holding through the process. LS pricing options vary depending on a few factors and are only available once your account has been confirmed. In order to be confirmed you must be a publisher, I thought that all of the research I conducted through these experiences may be of benefit to others, so I created Koozzz Publishing.  So as a publisher you have to have published or plan to publish books and have your own ISBN numbers. You can find more details on isbn's at Bowker. You can use your own ISBN's at Create Space as well or you can have them assign one for you, though if you use the Create Space ISBN it will not be transferable to any other POD provider.
The costs for file submission and proof copies were a little higher for LS however considering that there is human involvement during these stages the price seem in line, plus it does encourage you to get the file submissions right the first time. There is also a nominal annual charge applied on a per title basis.
The benefit of working with LS is their relationship with Ingram which opens the door for wholesale distribution of your book. You as the publisher have complete control on pricing, wholesale discount and whether to accept returns.  All of these factors contribute to the number of outlets your book appears in as well as online outlets such as Barnes & Noble and Amazon. When you are ready to release your book you have a one time option on whether to include your publication in the Ingram monthly catalog. Besides book stores and online outlets in the United States Ingram also has distribution relationships in the United Kingdom and one pending in Australia providing more international distribution options.
I also ordered several cases of books from Lightning Source and found the quality of the books to be excellent.
Other Resources:
If you are interested in self publishing I would encourage you to do your own research and make a decision based upon how much of the work you want to perform and what your technical capabilities are. Here is a link to a CNET article I found that discusses things to consider in your decision making along with information on some of the companies that provide self publishing services.

If you choose to go the traditional publishing route I would encourage you to read through "Writing a Winning Book Proposal" by Michael Hyatt, CEO of Thomas Nelson Publishers. He shares information to help you work through writing your query letter when securing an agent along with lots of questions and topics for you to consider that you may have overlooked when putting your book proposal together.
In fact its an excellent resource that I recommend even if you choose to self publish your manuscript, it prompts you to think through many other aspects to help you get off to a good start.
Posted on October 3, 2010
Had a great time at the Gospel Supply Shop here in Mount Vernon, they hosted the book signing for the debut of Fearful To Fearless last friday. The owners, Richard & Penny, said it was the best signing they had ever had. The press release did appear in the local Mount Vernon paper and was sent to other community papers as well. I didn't see it in the Columbus Dispatch although it was mentioned on their website.