Posted on January 31, 2011
From the Book Industry Study Group
From the Book Industry Study Group, Inc. (BISG) comes research collected directly from book readers that addresses how print-book buyers access, purchase, and use e-books and e-readers.
The survey found that 30% of print-book buyers would wait up to 3 months to purchase the e-book edition of a book by their favorite author. The study also found the top characteristics of why consumers purchase an e-book rather than a print book to be:

Affordability
Easy to download
Readability
Instant access to book
Portability
Searchability
Environmentally friendly.
Source: The Foster Letter - Religious Market update 1/25/2010
From Publishers Weekly
And here is a link to an article titled "It's a Digital Book World" from Publisher's Weekly that summarizes the impact e-books have on the publishing trade.
Posted on January 12, 2011
The Espresso Book Machine (EBM) has nothing to do with Espresso or coffee, but everything to do with books. Print On Demand (POD) publishing has been around for a number of years, it's allowed companies such as Lightning Source & Amazon's CreateSpace to capitalize on the growing market of self & small business publishing houses by providing a gateway into the publishing business. I talked about my experiences with both companies a few months ago in this post. It's also a way for publishers to keep out-of-print titles in print by bypassing the warehousing of titles.
According to Publishers Weekly (1/3/2011) there are only about 50 set up around the world due to its high cost. But places that have it have a leg up on their competition because the entire catalogue of titles available from industry leader Lightning Source is available to print a book within minutes on-site for a customer, thereby reducing the number of titles a bookstore would need to inventory. Lightning Source recently published its 100 millionth POD book and now has a catalogue of nearly six million titles.
Widespread use of the EBM may be years off but just the thought of sending a digitized book to a site across the globe and then printing a single quality copy, for purchase is astounding.
Here is a short video of the EBM version 2.0 in action:
Posted on January 2, 2011
With the new Facebook® profile comes a row of photos on the top of your profile. The photos are selected from all of the photos that you are tagged in. Privacy being what it is many people are eager to figure out how to remove an image or for those that are more ambitious, to even customize the row of photos as you'll see below.
How To Remove A Photo From Displaying

As you hover your mouse over the photos you will notice a small [X] in the upper right hand corner of each photo. When you click it you will be presented with a dialog asking whether you want to "hide" the photo from your profile page. Click "Hide Photo" to remove the photo.
If there are other photos that you are tagged in, the photo will then be replaced by one of those. Obviously if you are tagged in many photos this could take some time. Repeat the steps until you are happy with the resulting photos that are displayed or until all of the photos have been hidden.  If all photos are hidden the entire row of photos will no longer appear. If that is your intent you will probably need to repeat the steps if you or a friend tags you in another photo.
Unhiding Photos

Once you have hidden a photo you can choose to unhide photos. At this point I'm not certain whether you have the ability to unhide an individual photo or not, however when you click to "edit your profile" and then click the "Profile Picture" link along the left side you will now see that an "Unhide All" button has been enabled. 

Note however that if you click the button to unhide the photos the result is that ALL of the photos are unhidden. The button executes immediately without presenting a dialog stating what you are about to do and the button returns to a disabled state again (until you choose to unhide a photo).  So be warned that if you didn't intend to do that you'll have to start all over again.

If you hide all but just a few of your tagged photos the profile photos will show empty position holders until additional photos are tagged. One tip I discovered is that if you tag your current profile picture it did not automatically show up. If you want it to appear you will have to reload the same image and tag it.
Feeling Ambitious?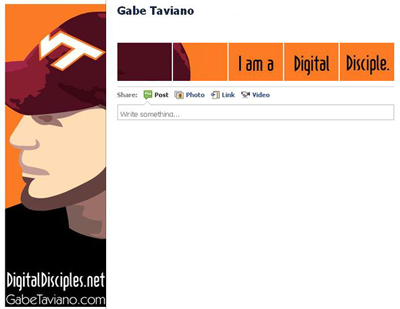 If you're feeling really ambitious you might try to do some customization like my friend Gabe (@gabetaviano) did. He actually customized his row of photos to tie into his profile picture to create a photo montage. Great job Gabe, hopefully somebody won't tag you in a new photo and distort it!
You can download the free Photoshop template Gabe used by following the link from howtonew.com.
Wrap Up
Not sure what future plans or functionality Facebook® is planning, but this should get you on your way of removing images you would prefer not show up on your profile.
You can also checkout the Facebook Help Center page for info under "Editing your profile" and "Privacy".
If you have any other ideas or I've missed something leave a comment.