ebook
---
---
---
---
Posted on May 15, 2012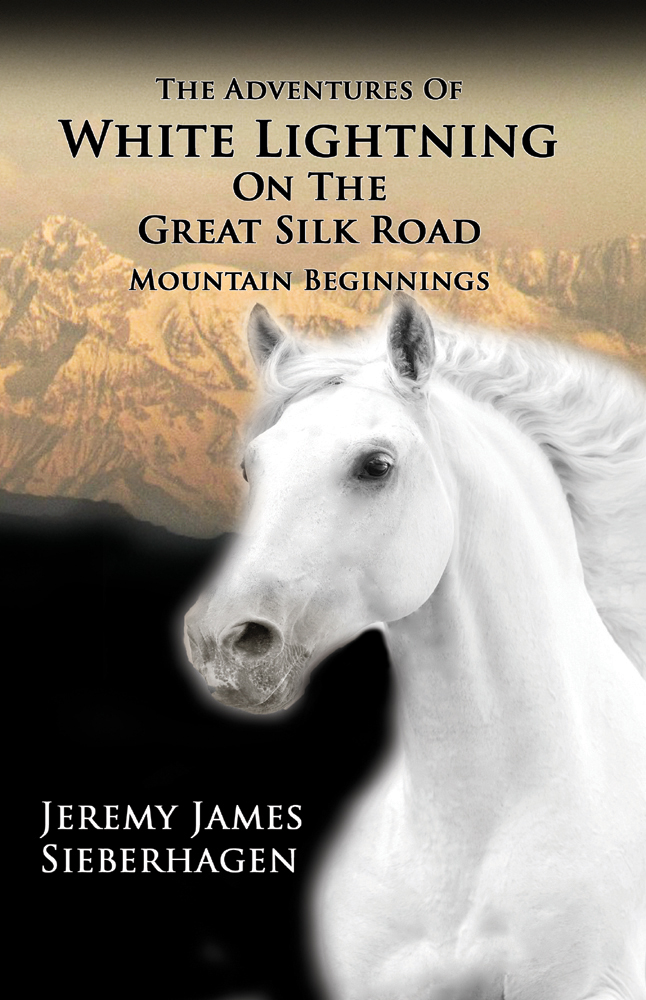 Jeremy Sieberhagen and his wife Marlene have lived in the Central Asian countries of Uzbekistan, Kazakstan and Azerbaijan for the last twenty years. Jeremy and Marlene have three children; Abigail, Nathan and Hannah.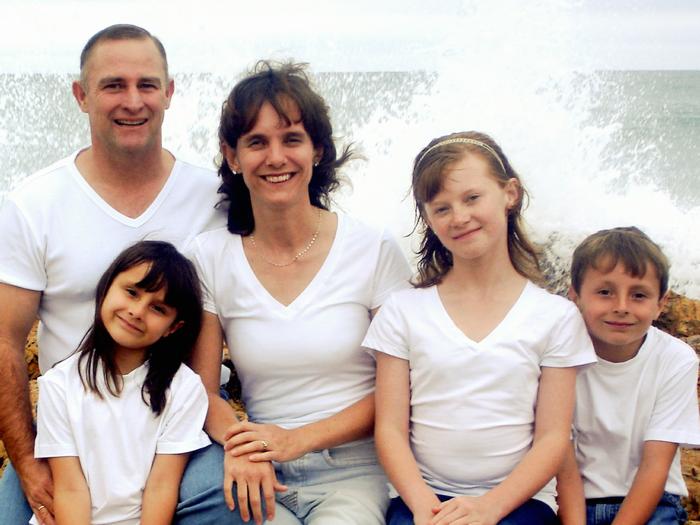 Creative story telling was, in large part, what helped get the kids through many cold winter nights. What began as a single story soon grew into The Adventures Of White Lightning.
The Adventures of White Lightning take place in the Tien Shan Mountains of Central Asia. It is the story of a young horse and how he comes to understand and trust the great Tangri, Creator God. It is a story of the consequences of making mistakes, of courage in the face of evil. It is a story of confidence and exploration, of perseverance in hardship, of trust and friendship. It is a story that teaches that we are all loved and created by God.
For more information on the paperback & e-book version please visit Koozzz Publishing.
Posted on March 23, 2012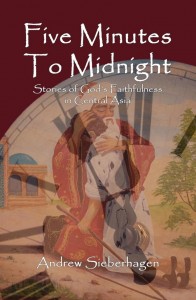 The past several months I've been working with Andy Sieberhagen to prepare thirty of his family's most significant memories of living ten years in several Central Asian countries. The result is a powerful collection of stories that reflect the pilgrimage of an ordinary man in the hands of an extraordinary God living among those who have never heard the gospel.
I invite you to pickup a paperback or e-book copy of Five Minutes To Midnight, your life will be impacted! Visit Koozzz Publishing for more information.
Posted on June 1, 2011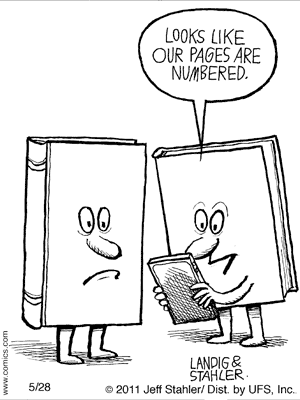 We enjoy reading Jeff Stahler's Moderately Confused cartoons, especially the reader caption contests that he holds each month. I thought this one from May 2011 was right on target and captured the growing popularity of e-readers and their growing impact on traditional books.
Caption Contest #35 Winner Columbus Dispatch
Posted on April 6, 2011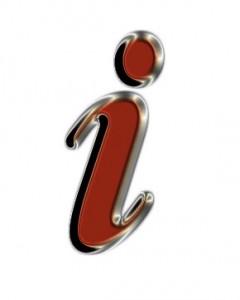 After publishing Fearful To Fearless© for both the Kindle™ & Nook™ as well as in native eBook format i thought it was time to look into a format for the iBookStore™.  To be honest I've worked with Windows™ machines in business and personally since the 80's and have never felt compelled to wander over to the other side. But I figure that if I had an iPiece (sic) of hardware (iPad™, iPhone™ or iPod Touch™ running iOS 4 or higher) I would prefer to keep it as clean as I could to not be forced to install an alternate eBook reader application just because a book I was interested in downloading was not available in the format I desired.
So the saga began with researching the iBook™ format and how to make it available from the iBookstore™ .
Turns out you need an ITunesConnect™ account which is how you will manage your iBook™... which in essence is an eBook. Once you're approved to publish you need to download iProducer™ for the Mac™,  a Windows™ version is not available. This is where it comes in handy to have friends who are partial to the iFamily (sic) of products, my first choice was my man @pavi who was all too happy to oblige... iThink (sic) deep down he believed it would draw me to the iSide (sic).
iThanked (sic) him for his generosity and proceeded to explore the idiosyncrasies of this new environment... the MacBook Air™. It wasn't long before iRealized (sic) that apparently Apple™ users have no problem with the notion of not having a "backspace" key. It's like it went extinct back in the days when the iBM™ (sic) Selectric ruled. With a quick search iRealized (sic) the difference between a forward and backward delete, along with a few other nuances.
homophones gone wild!
By now you sort of get the iDea that the more iExplored the different iProducts the more I got to wonder about all the other iWords that fit the genre and could actually be a homonym for a real word. I'd give my iTeeth to come up with a long list, for instance when Apple releases a software fix do they call it an iPatch? Or when you attend a training session is it called an iClinic? Or what if you missed an exam, can you take an iMakeup test?
I didn't want a case of iStrain so on went my iGlasses to make sure my iSight™ was clear to iChart my way down this path. It wasn't long before my iLids began to close, but I didn't want to iDrop the iBall so iLash'd out and continued to dig deeper [Ay Caramba!]. It was quite an iOpening experience, iBeamed with excitement at the prospect of finding so many words so quickly.
My head said to stop because it was making my iWater and nobody is going to care about this anyway, but you're an iWitness... it's not for my eyes only. I don't know what's on Apple's iRadar™, but I'm sure that whatever it is it will be like iCandy, both  iCatching & iPopping! [ay yi yi!]
This is probably pretty corny, especially for long time Apple™ users so... all in favor of stopping this nonsense say aye! Sounds like the ayes have it... okay then... aye aye captain!
As of this writing the iBook™ version of "Fearful To Fearless" is still in a pending status, I've read that it can be a while due to the backlog of titles in the iQueue (sic).
I'm off to study iSaac Newton, who is rumored to have had a different encounter with an apple. And for whatever it's worth here is a link to Apple's trademarks.
Now.... who wants iScream?
Posted on February 1, 2011
Last month I posted about why I decided to publish an e-book for the Kindle format before any other version. This post briefly runs through the tools I used and some helpful links I found along the way in converting Fearful to Fearless to the EPUB format. 
First, what exactly is epub anyway? The short answer is that it is epub is an ebook standard defining the xml and other media and metadata that makes up an ebook. Its documented by the International Digital Publishing Forum (IDPF). 
I use  Microsoft Office™ Professional 2003  so I needed to begin by converting it to a compatible format as a starting point. I began with the same file & format I used to create the format for Kindle, filtered html.  It's basically an html file with the Microsofty tags removed and eliminates any hard page breaks.  Here are the steps to create a filtered html from Microsoft Word™: 
From the File menu, click Save as.
In the Save as type box, click Web Page, Filtered.
Click Save.
Next I selected all text in the document and set the style to Normal, this retained any bold, italics and indents in my document. 
The next step may seem strange seeing as how the document was just converted from Word, but I opened the filtered html file in Word and saved it to a docx format.   I have the Microsoft 2007 compatibility fixes installed to my Office 2003 version which allows you to read and write using the new 2007 format. I had attempted to convert the filtered html file directly to epub but there were still a number of resulting  errors reported, converting from docx using epubgen worked great to get thing started. 
The EPUB Code Project 
Next, you will need to visit the epub open source project at google and download a couple of programs that allow you to convert your docx or rtf document. It may seem a big complicated for a novice since these are Java programs and much of the discussion in the forum is technical in nature, but don't worry you don't need to know java to use the program, you will need to make sure you have the appropriate version of the Java Run Time Engine (RTE) installed however, you can check your computer here. 
Click to visit the epub-tools project page and look for the download tab/link. On the download page look for the latest epubgenx.x.x.jar file and download it.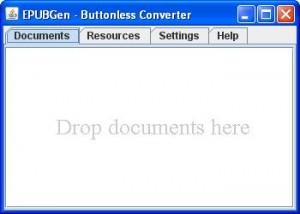 When you are ready to run your document through the epub conversion simply double click the jar file which will open up the epub converter window. It's not your typical windows application as there are no buttons, all you do is drag your document to convert into the "Documents" tab. Once the conversion is complete you drag and drop the new epub document to whereever you want. 
Next you'll need to download the epubcheck files, click the link to download the most current stable build and then click the zip file to download and save the most current binary version to your pc. You might see multiple versions... just grab the most current version, the one with the hightest version number. You'll need to be familiar with working from the command prompt. Before running epubcheck you'll want to run your document thorugh the next step. Al alternative would be to use the online validator from Threepress Consulting. 
Sigil 
The final download is for a WYSIWYG ebook editor named Sigil [screenshot]. I downloaded several programs that touted ebook converting, editing and converting but this was the only one that passed the epubcheck program which is a requirement if you want to publish in ebook format. Its still in the early stages of development but it allows you to edit, add chapters, update your table of contents and add a cover graphic among other things, plus comes with an online manual and a built in epub checker. Look to download the latest Windows setup.exe file from the Sigil project page. There is also a link to a basic tutorial which is very helpful. When I used Sigil I first attempted to use the filtered html file as the source but it produced many errors and warnings, thats why I took the time to first convert using the epubgen program and then perform the final edits and checks using the converted epub file. Be sure to run the built in epub checker that Sigil comes with, once it passes that I suggest running it by the official epubcheck utility. 
EpubCheck 
Adobe was a major initial contributor to the epubcheck utility, the epubcheck project page contains links to step by step instructions on how to setup and use epubcheck on your computer. Some of the comment threads mention online utilities that have been created however I wanted to know that I was using the latest version of the checker that was available. As mentioned earlier you will need to be familiar with working from the command prompt to be able to run this utility. 
Testing 
Once you have your validated epub document from epubcheck you'll want to test it to see how it looks in an ereader. I tested using both Adobe Digital Editions and Barnes & Nobles Nook for PC. With your epub book opened in Adobe Digital Editions you can also check to see if there are any errors by clicking on arrow and click on "Item Info". 
Helpful Links 
Here are some other helpful links I came across along the way in creating my first epub book. 
Posted on January 31, 2011
From the Book Industry Study Group
From the Book Industry Study Group, Inc. (BISG) comes research collected directly from book readers that addresses how print-book buyers access, purchase, and use e-books and e-readers.
The survey found that 30% of print-book buyers would wait up to 3 months to purchase the e-book edition of a book by their favorite author. The study also found the top characteristics of why consumers purchase an e-book rather than a print book to be:

Affordability
Easy to download
Readability
Instant access to book
Portability
Searchability
Environmentally friendly.
Source: The Foster Letter - Religious Market update 1/25/2010
From Publishers Weekly
And here is a link to an article titled "It's a Digital Book World" from Publisher's Weekly that summarizes the impact e-books have on the publishing trade.
Posted on December 20, 2010
Even the funny papers have mentioned Kindle! You don't suppose that means that the Kindle identity may one day be lost in the same way that Kleenex did with tissue?
I'm just about ready to jump onto the e-reader bandwagon (for reading), though I did make sure that there was a Kindle Edition of Fearful To Fearless available as more and more readers opt for e-books. I chose Kindle to publish the first e-version based on consumer acceptance and the sheer number of titles currently available, plus I've seen it in action.
With so many options for e-readers available I can't imagine publishers or authors spending resources to customize e-book source files for each and every reader out there. Michael Hyatt, CEO of Thomas Nelson Publishers had a great post a few months ago where he compared several popular e-readers.  As Michael mentioned in his post, it's only a matter of time before the field is narrowed down to a manageable number. 
I think price is probably the biggest factor that will draw consumers to the Kindle, that along with the sheer number of titles that are available make it a huge draw. Plus, I especially like the fact that there are compatible applications available for multiple platforms so you can reach a much broader audience. Amazon has made the Kindle format available to reach a larger audience by providing reading apps for iPhone, iPad, Blackberry, Android, Mac and PC.
Formatting the book for Kindle was a bit more involved than simply running your Microsoft Word™ version through a conversion program and submitting to Amazon's digital text platform. I'll try to outline the steps involved with creating the Kindle version along with some of the roadblocks I bumped into along the way in a future post.
Here is a link if you are interested in learning more about the Kindle Publishing Program and Amazon's digital text platform as well as links to guidelines and how to get started. 
The Amazon createspace is a program that allows authors and other artists to self publish and sell on Amazon. As an author as well as publisher you can also sign up for Search Inside that allows a percentage of your book to be viewed on Amazon.
An earlier post provided a few details on publishing through CreateSpace and Lightning Source.