Proverbs
---
---
---
---
Posted on July 14, 2010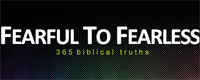 Future posts exploring the biblical truths around fear and worry are now being posted on a site that is solely dedicated to this subject.  Please continue to explore with me at
Posted on July 9, 2010
If you are afraid of people, it will trap you. But if you trust in the Lord, he will keep you safe.
Matthew 09:22 (NKJV)
Comment: Do not shy away from our responsibility in order to avoid trouble or temptation from man. Depend on the power of God whom we can trust.
Posted on July 3, 2010
Be not afraid of sudden terror and panic, nor of the stormy blast or the storm and ruin of the wicked when it comes [for you will be guiltless], For the Lord shall be your confidence, firm and strong, and shall keep your foot from being caught [in a trap or some hidden danger].
Proverbs 03:25-26 (AMP)
Comment: When you are caught off guard and become confused, never lose sight of the Lord who is our protector, let Him be your confidence.
Posted on June 28, 2010
My child, hold on to your wisdom and insight. Never let them get away from you. They will provide you with life - a pleasant and happy life. You can go safely on your way and never even stumble. You will not be afraid when you go to bed, and you will sleep soundly through the night.
Proverbs 03:21-24 (GNT)
Comment: Wisdom guides us through life, keeps us from temptation so that we can walk in confidence and without fear. We are protected by the one that never sleeps.
Posted on June 23, 2010
But whoever listens to me will have security. He will be safe, with no reason to be afraid.
Proverbs 01:33 (GNT)
Comment: When we seek and follow the counsel of God we are assured of being safe from evil and have no reason to fear it.