Posted on July 27, 2010
The Philco Corporation Presents... Great Moments In Sportscasting
As a kid growing up in the 60's I remember our family getting our first stereo system. I think we may have actually saved up enough Top Value stamps at the grocery store to get it. The following '45' sized 33 rpm record came as a bonus.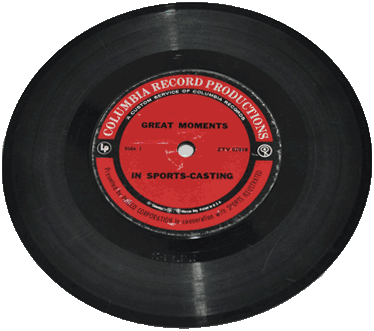 Click to Play Audio:
 Great Moments In Sportcasting
October 1951; Dodger vs Giants Pennant Race
Post Game Interviews
December 7, 1941 Brooklyn vs Giants Football Team Radio Announcement
Babe Ruth Audio Clips
Knute Rockne in the Notre Dame locker room
Dizzy Dean
Dempsey / Firpo Post Fight Comments 1923
Joe Lewis comments following Max Scmeling fight
Two Ton Tony Galento comments after Joe Lewis fight
Buddy Bair candid confession
Seabiscuit vs War Admiral
Posted on July 14, 2010
Or think of a ship: big as it is and driven by such strong winds, it can be steered by a very small rudder, and it goes wherever the pilot wants it to go. So it is with the tongue: small as it is, it can boast about great things...
-- James 3:4-5a (GNT)
Just as the rudder is a small part of the ship, it is able to steer and turn the ship as the pilot directs; In the same way the tongue is a small part of the body and can govern the whole man. Learn to manage the tongue because it is capable of a great deal of good as well as a great deal of harm. 
Posted on July 14, 2010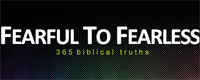 Future posts exploring the biblical truths around fear and worry are now being posted on a site that is solely dedicated to this subject.  Please continue to explore with me at
Posted on July 9, 2010
If you are afraid of people, it will trap you. But if you trust in the Lord, he will keep you safe.
Matthew 09:22 (NKJV)
Comment: Do not shy away from our responsibility in order to avoid trouble or temptation from man. Depend on the power of God whom we can trust.
Posted on July 7, 2010
Let my teaching fall like rain and my words descend like dew, like showers on new grass, like abundant rain on tender plants. I will proclaim the name of the LORD. Oh, praise the greatness of our God!
-- Deuteronomy 3:2-3 (NIV)
Posted on July 3, 2010
Be not afraid of sudden terror and panic, nor of the stormy blast or the storm and ruin of the wicked when it comes [for you will be guiltless], For the Lord shall be your confidence, firm and strong, and shall keep your foot from being caught [in a trap or some hidden danger].
Proverbs 03:25-26 (AMP)
Comment: When you are caught off guard and become confused, never lose sight of the Lord who is our protector, let Him be your confidence.