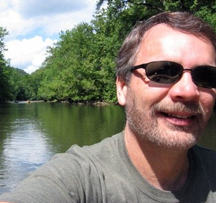 I'm President of Thunder Software LLC and author of Fearful To Fearless. Thunder Software is a consulting company providing technical solutions as well as offering free software to churches that is specifically designed to provide them with an automated way to handle church management. There are over 2000 churches around the world that have already downloaded it. Why do I give it away free? This post explains it.
We also manage OneYearBibleOnline.com, it was the first site on the net to provide a means for reading through the bible in a year utilizing online tools.  There are also versions available to use on your mobile device, and through Facebook & Twitter. We even offer a free  email newsletter that will send you each days links. Here is a post that talks a bit more about it.  Recently we launched a new site that delves deeper into the area of fear and worry, highlighting bible verses that direct us to not be afraid or worry, but to trust in and worship God. You can check it out at fearfultofearless.com.
Personally I've always had a passion for photography, especially the landscape and wildlife that illustrates and reflects the glory of God. Without Him there wouldn't be much to photograph. You can see some of my work here. My wife, Chris, and I have been married for thirty-five years and have two sons. We currently live in Mount Vernon, Ohio.
Over the years I've written several technical articles that have been published in both the Powerbuilder & Silverstream Development Journals, in fact I was the tips editor for the Silverstream Journal. Software security has always been one of my strengths, so when I heard that a new book was being planned for Silverstream I was glad to accept the offer to write the security chapter (17) of SilverStream Success.
Most recently I've embarked on a new endeavor that I will be sharing more information on very soon. It revolves around writing about fear, more appropriately it revolves around being transformed from being afraid, to trusting in Christ, to having a worshipful fear and awe of God. For a sneak peek you can visit fearfultofearless.com.
Thanks for stopping by, feel free to follow me on twitter.
Jeff