Great Moments
---
---
---
---
Posted on July 1, 2012
Jun 30: Luke 7:18-23
Message Audio: (36:28) Play Audio
Note: Message Audio files can be downloaded from the RSS feed
here
.
Posted on July 27, 2010
The Philco Corporation Presents... Great Moments In Sportscasting
As a kid growing up in the 60's I remember our family getting our first stereo system. I think we may have actually saved up enough Top Value stamps at the grocery store to get it. The following '45' sized 33 rpm record came as a bonus.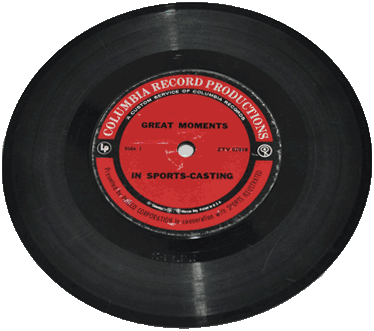 Click to Play Audio:
 Great Moments In Sportcasting
October 1951; Dodger vs Giants Pennant Race
Post Game Interviews
December 7, 1941 Brooklyn vs Giants Football Team Radio Announcement
Babe Ruth Audio Clips
Knute Rockne in the Notre Dame locker room
Dizzy Dean
Dempsey / Firpo Post Fight Comments 1923
Joe Lewis comments following Max Scmeling fight
Two Ton Tony Galento comments after Joe Lewis fight
Buddy Bair candid confession
Seabiscuit vs War Admiral