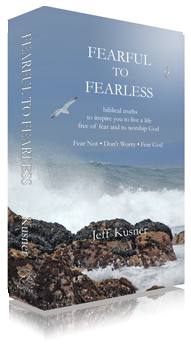 For the last year and a half I've been quietly putting together a devotional on fear and worry. It's actually the kind of book I've been looking to find for more than ten years, I always thought somebody else would write it. I recall hearing on the radio that there were 365 fear nots in the bible, and how great it was that God would provide a scripture verse to not be afraid for each day of the year. It was even mentioned in the movie "Facing the Giants", however I've never seen a book written about it.
After leaving the corporate world in 2008 I felt compelled to embark on the journey and started researching the subject for myself. As I began to bring all of the scriptures together and research what each one had to say I began to consider the idea of publishing them in book form. The book Fearful To Fearless is the result. I put together a proposal and sought out literary representation which I will write more about in a future post, but let me just say that I've had the good pleasure of working with a fellow brother in Christ, Gary Foster during this project, he has a wealth of industry experience.
I won't go on in this post with the details of the book, instead please visit fearfultofearless.com for all of the current details.