Back in the summer of 2007 we made our way up to Northern Michigan and stopped for lunch in Petoskey. There is a small park that sits atop a bluff overlooking the Little Traverse Bay. It was a beautiful day so I proceeded to shoot some pictures with my Nikon D50.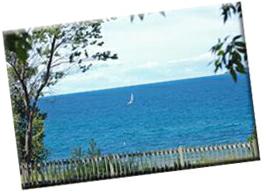 I especially loved how this one picture turned out, so last May I thought it would be perfect to fill the blank wall that sits in front of my desk. In the past I have had good results when enlarging images to poster size (20″ x 30″), but I wanted to do something different with this photo. I wanted to super-size it, not billboard size mind you but something i could mount on the wall at home and have it really stand out.
The D50 comes with a 6.1 megapixel sensor, less than half of what a new DSLR camera comes with these days. I was concerned with pixelization and didn't want to risk poor quality by go going too big, nor did I want it to overpower the room either. I researched enlargement techniques online to minimize pixel loss and used Adobe software to upsize the image to 54″ x 36″. I worked with the folks at Key Blue Prints in Westerville and they produced an outstanding print. It's a matte print mounted on black foam core with a .5 mil hot press laminate.
After completing the work on the Fearful To Fearless book I decided it was time to get out, grab the camera and try to capture some of the fall colors in the area. I've since upgraded to the Nikon D90 which comes with a 12.3 megapixel sensor. I remembered that my friend Ray Bohac had captured the brilliance of fall in a spectacular shot of the tree lined street in front of Schnormeier Gardens here in Knox County.
With Ray's photo fresh in our minds Chris and I took a drive out that way a couple weeks ago for a photo shoot. The shot below is one of our favorites from that day, it was taken from a different perspective from the picture Ray took which was from the other end of the road. We liked it so much we decided to have it enlarged. This time we chose a semi-gloss finish and went a little wider and not quite as tall… 60″ x 30″. The order was placed and Key Blue Prints didn't let us down.